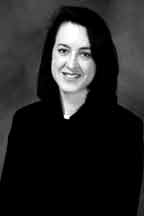 Dr. DeWitt is a board certified member of the American Orthopedic Foot & Ankle Society and the AMA. She currently focuses on foot and ankle care, particularly on more complex and challenging problems. She has taught UNC orthopedic residents and currently volunteers for Project Access and Alliance Medical Ministry providing care for those without medical insurance. Dr. DeWitt speaks Spanish and has done mission work in Nicaragua and Mexico. She was listed as a top doctor by Business North Carolina, December 2020.
She has been affiliated with the following:
American Board of Orthopaedic Surgery
American Academy of Orthopaedic Surgeons
American Medical Association
American Orthopaedic Foot and Ankle Society
Ruth Jackson Society
Education
Undergraduate: Duke University
Medical school: Baylor College of Medicine
Internship & residency: University of Utah
Fellowship training: Harbor-UCLA, Los Angeles (Foot and Ankle)
Publications
"The printed page is not always black and white: Commentary on article by Cory F. Janney, MD et al:'Disclosures undisclosed,'" Journal of Bone and Joint Surgery American, 101A(11):e54, Jun 2019.
"Triple arthrodesis in adults with non-paralytic disease: a minimum 10 year follow up," Journal of Bone and Joint Surgery American, 86A(12), Dec 2004.
"Radiographic Evaluation of Native Anterior Cruciate Ligament Attachments and Graft Placement for Reconstruction," The American Journal of Sports Medicine, Vol. 24 no. 1, Jan 1996.
Dr. DeWitt's Updates