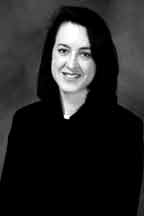 Dr. DeWitt is a member of the American Orthopedic Foot & Ankle Society. She currently focuses on foot and ankle care, particularly on more complex and challenging problems. She teaches UNC orthopedic residents part-time, volunteers both at WakeMed and through Project Access to see indigent patients. Dr. DeWitt speaks Spanish and has participated in a mission work in Nicaragua and Mexico.
She has been affiliated with the following:
Certified American Board of Orthopaedic Surgery
American Academy of Orthopaedic Surgeons
American Medical Association
American Orthopaedic Foot and Ankle Society
Ruth Jackson Society
Speaks Spanish
Raleigh Orthopaedic Clinic where she started her practice in 2000
Education
Undergraduate School: Duke University
Medical School: Baylor College of Medicine
Internship & Residency: University of Utah
Fellowship Training: Harbor-UCLA, Los Angeles (Foot and Ankle)
Publications
"Triple arthrodesis in adults with non-paralytic disease: a minimum 10 year follow up," Journal of Bone and Joint Surgery American, 86A(12), Dec 2004.
"Radiographic Evaluation of Native Anterior Cruciate Ligament Attachments and Graft Placement for Reconstruction," The American Journal of Sports Medicine, Vol. 24 no. 1, Jan 1996.
Dr. DeWitt's Updates